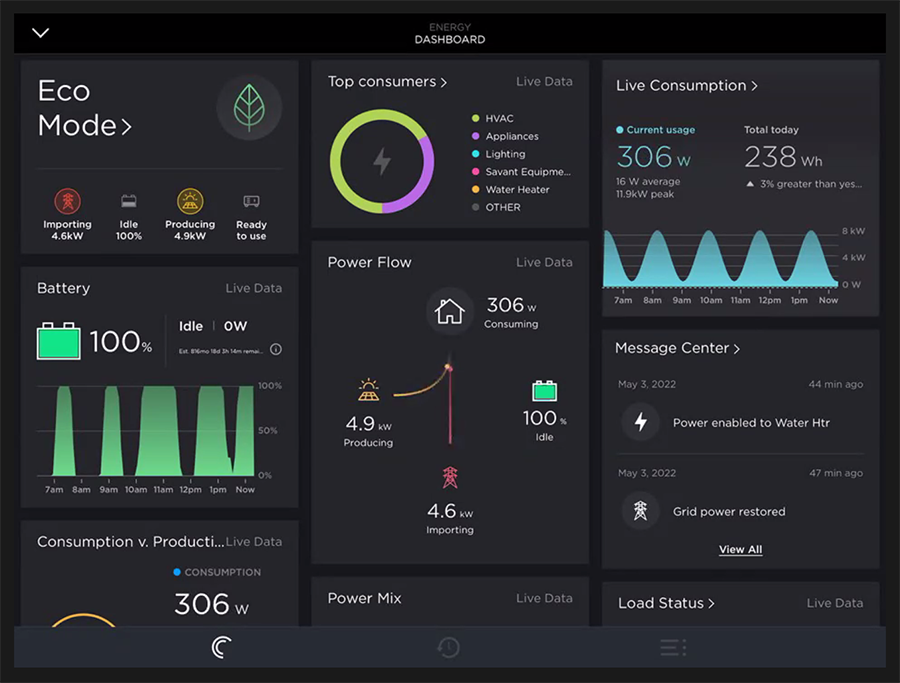 Harnessing Energy with the Power of Technology
Here at Level Up Automation, we are invested helping our clients to deliver an energy efficient home or business that leverages technology to support an efficient lifestyle.
We are certified and skilled at making sure that the energy used to power your home or business doesn't go to waste. We can turn any electrical panel into a smart, controlled device that proactively manages your energy.
Energy management systems
Our product line of energy management systems creates efficiency throughout all of your home or business.
• Real-time energy monitoring
• Energy production and
consumption history
• Flexible Load Management
• Energy insights
• Energy modes including Eco Mode,
Power Outage mode and more
• Time of use mitigation
• Compatibility with generator &
energy storage solutions
Smart EV Chargers
Charge your electric vehicle right at home or business with our selection of electric vehicle chargers.
•The Most Powerful Level 2 EV Charger
•Up to 50 Amp Charge to Vehicles
•Low Profile Design
•Interchangeable Dock
•25 Foot Cable
•Includes Standard Wand and Tesla Adapter
•3-Year Warranty
Energy Control & Independence
Industry Leading Certifications